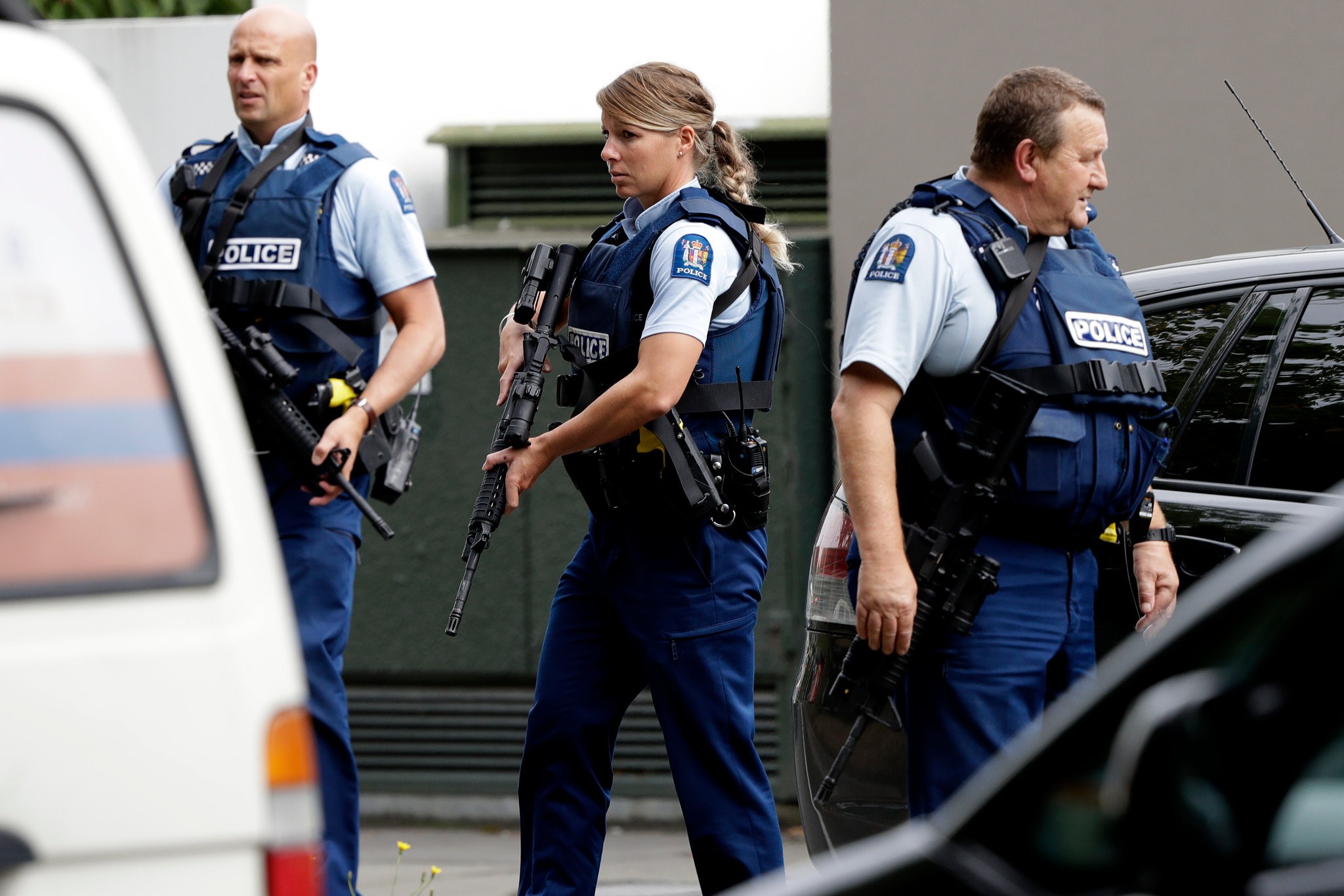 New Zealand Shooting Live Updates: Christchurch Mosque Attacks Leave 49 Dead, Australian suspect charged
• Forty-nine people were killed in shootings at two mosques in central Christchurch, New Zealand, on Friday, in a terrorist attack that appeared to have been carried out by a white nationalist extremist who posted a racist manifesto online and streamed live video of the attacks on Facebook.
• A 28-year-old man, identified as an Australian, was charged with murder and was to appear Saturday morning in a Christchurch courtroom. The New Zealand police said he would face additional charges. The man's name was not immediately released.
• Prime Minister Jacinda Ardern described the assault as "an extraordinary and unprecedented act of violence," and promised changes in New Zealand's gun laws.
• President Trump, who was cited in the manifesto as a source of inspiration, told reporters he did not see white nationalism as a rising threat around the world and attributed such attacks to "a small group of people that have very, very serious problems." He also said he had not seen the manifesto.
The attacker targeted the Al Noor Mosque in the center of the city and Linwood Mosque, about three miles away.
The country's police commissioner, Mike Bush, said at a Friday evening news conference that 41 people had been killed at Al Noor Mosque and seven at Linwood Mosque, and that another victim had died at Christchurch Hospital.
David Meates, the chief executive of the Canterbury District Health Board, said that 48 people, including young children, were treated for injuries at the hospital. Mr. Bush said Saturday morning that two of the victims were in critical condition.
The police said Friday that three men and one woman had been taken into custody, but Mr. Bush lowered the total number to three on Saturday morning, indicating that someone had been released.
Mr. Bush said that a 28-year-old man had been charged with murder and would appear in Christchurch court on Saturday morning. A number of firearms were recovered from the scenes of the shootings, he said.
Ms. Ardern said none of those detained had been on security watch lists.
Mr. Bush had earlier urged people not to go to mosques anywhere in New Zealand on Friday. He also urged mosques nationally to "close your doors until you hear from us again."
Video shows part of the shooting
A 17-minute video posted to Facebook shows part of the attack.
The clip, which may have been taken from a helmet camera worn by the gunman, begins behind the wheel of a car. A man, whose face can occasionally be seen in the rearview mirror, drives through the streets of Christchurch before pulling up in front of Al Noor Mosque, beside the sprawling Hagley Park.
He approaches the mosque on foot, his weapon visible, and begins shooting at people at the entrance. What follows is a harrowing nearly two minutes of his firing on worshipers.
At one point the gunman exits the mosque and fires in both directions down the sidewalk before returning to his car for another gun — which, like the others, was inscribed with numbers, symbols or messages. When he re-enters the mosque, he shoots several bodies at close range.
After another few minutes, he returns to his vehicle and drives away.
"There wasn't even time to aim, there was so many targets," he says at one point, as the sirens of an emergency response vehicle blare in the background.
A white nationalist manifesto
Before the shooting, someone appearing to be the gunman posted links to a white nationalist manifesto on Twitter and 8chan, an online forum known for extremist right-wing discussions. The 8chan post included a link to what appeared to be the gunman's Facebook page, where he said he would also broadcast live video of the attack.
The Twitter posts showed weapons covered in the names of past military generals and men who have recently carried out mass shootings.
In his manifesto, he identified himself as a 28-year-old man born in Australia and listed his white nationalist heroes.
Writing that he had purposely used guns to stir discord in the United States over the Second Amendment's provision on the right to bear arms, he also declared himself a fascist. "For once, the person that will be called a fascist, is an actual fascist," he wrote.
Ardern: 'Now is the time' to change gun laws
Prime Minister Jacinda Ardern, speaking during a Saturday morning news conference, vowed changes to the country's gun laws. She said that the attacker held a gun license obtained last November and that five guns were used in the attack including two semi-automatic weapons.
"Our gun laws will change, now is the time," Ms. Ardern said, though did not elaborate on what such legislation may look like. "People will be seeking change, and I am committed to that."
Ms. Ardern said she would be traveling to Christchurch later along with other politicians including members of the opposition. Ms. Ardern also said the attacker had not been known to either Australian or New Zealand officials.
"While the nation grapples with a form of grief and anger that we have not experienced before, we are seeking answers," she said.
Ms. Ardern also detailed a phone call with President Trump, who offered his support. She said she asked for "sympathy and love for all Muslim communities."
Earlier, Ms. Ardern described Friday as "one of New Zealand's darkest days."